Contraception is defined as all methods voluntarily used by a person to prevent sexual intercourse from leading to an unwanted pregnancy. In addition, some of the methods presented below can also protect against STIs: sexually transmitted infections (condoms) or plan a pregnancy (natural methods).

It is not always easy to know which method is the best suit for you regarding contraception. Here are some characteristics specific to every contraceptive to inform and help you make a choice that fits your needs. Know that is always possible to choose, change, ask questions, and discuss about it. Go to "Talk about it" page for further information.
CONTRACEPTIVE COMPATIBILITY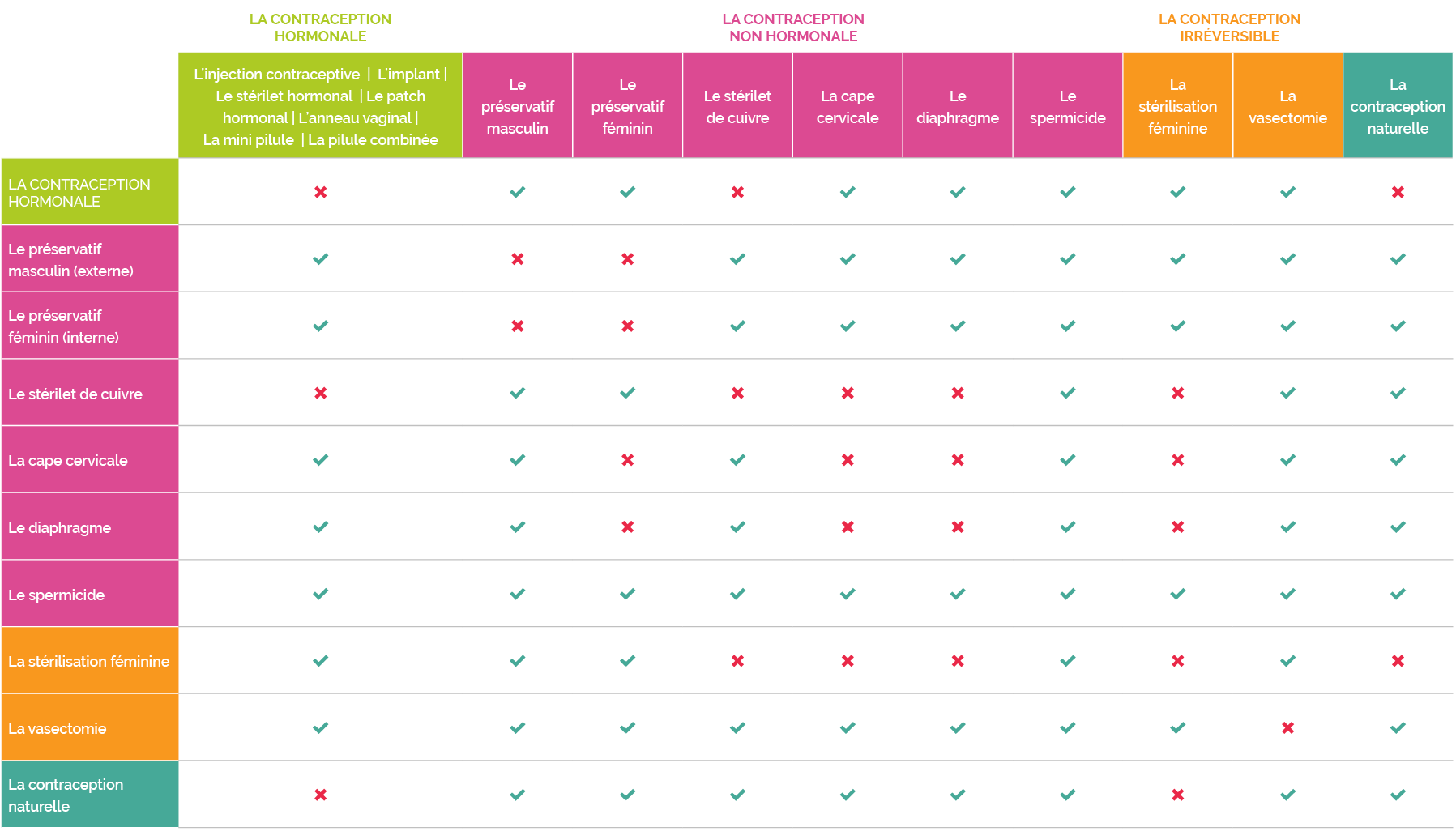 Contraception use is an important topic of discussion to have with your sexual partner.s. Indeed, there are no bad ways of managing fertility, as long as things are clear between partners. In this effect, it can be interesting to combine some contraceptives, either to increase the chance to avoid a pregnancy, to share the responsibility of contraception management, or even to avoid catching or transmitting sexually transmitted infections (STIs). The combined use of some methods can increase the effectiveness, but be aware, in other cases, it can also decrease the effectiveness! The table below indicates which methods can be used together or not. For any question, do not hesitate to talk about it to a doctor or a healthcare professional. 
When should you take an emergency contraception?
Emergency contraception aims to prevent the meeting between an egg and a sperm OR that a fertilized egg implant itself in the uterine wall of the uterus (endometrium). Many contraceptives use the same mechanisms but are simply taken before the risky intercourse. Emergency contraception is taken after the risky sexual intercourse. However, it is important to specify that a fertilized egg that implant itself in the endometrium is a pregnancy. Emergency contraception will therefore have no impact on a pregnancy that has already started. If it is your case, go to "unwanted pregnancy" page. 
2 major methods exist for emergency contraception:
Quand faut-il prendre une contraception d'urgence ?
La contraception d'urgence vise à empêcher la rencontre d'un ovule et d'un spermatozoïde, OU qu'un ovule fécondé s'implante au niveau de la paroi interne de l'utérus (endomètre). D'autres contraceptions utilisent les mêmes mécanismes, mais sont simplement pris avant un rapport à risque, tandis que les contraceptions d'urgences, elles, sont prises à la suite d'un rapport sexuel. Toutefois, il convient de spécifier qu'un ovule fécondé qui s'est implanté au niveau de l'endomètre constitue une grossesse. La contraception d'urgence n'aura donc aucun impact sur une grossesse ayant déjà débuté. Si tel est votre cas, veuillez vous diriger vers la page « grossesse non-désirée ». 
Deux principales méthodes existent pour la contraception d'urgence :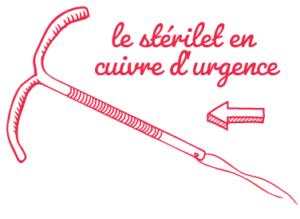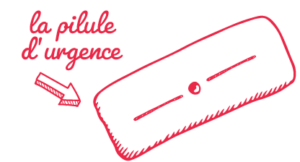 There are many situations that can lead to emergency contraception use. Check the underneath table to know what are the situations that can lead to a situation where your contraception may have not worked.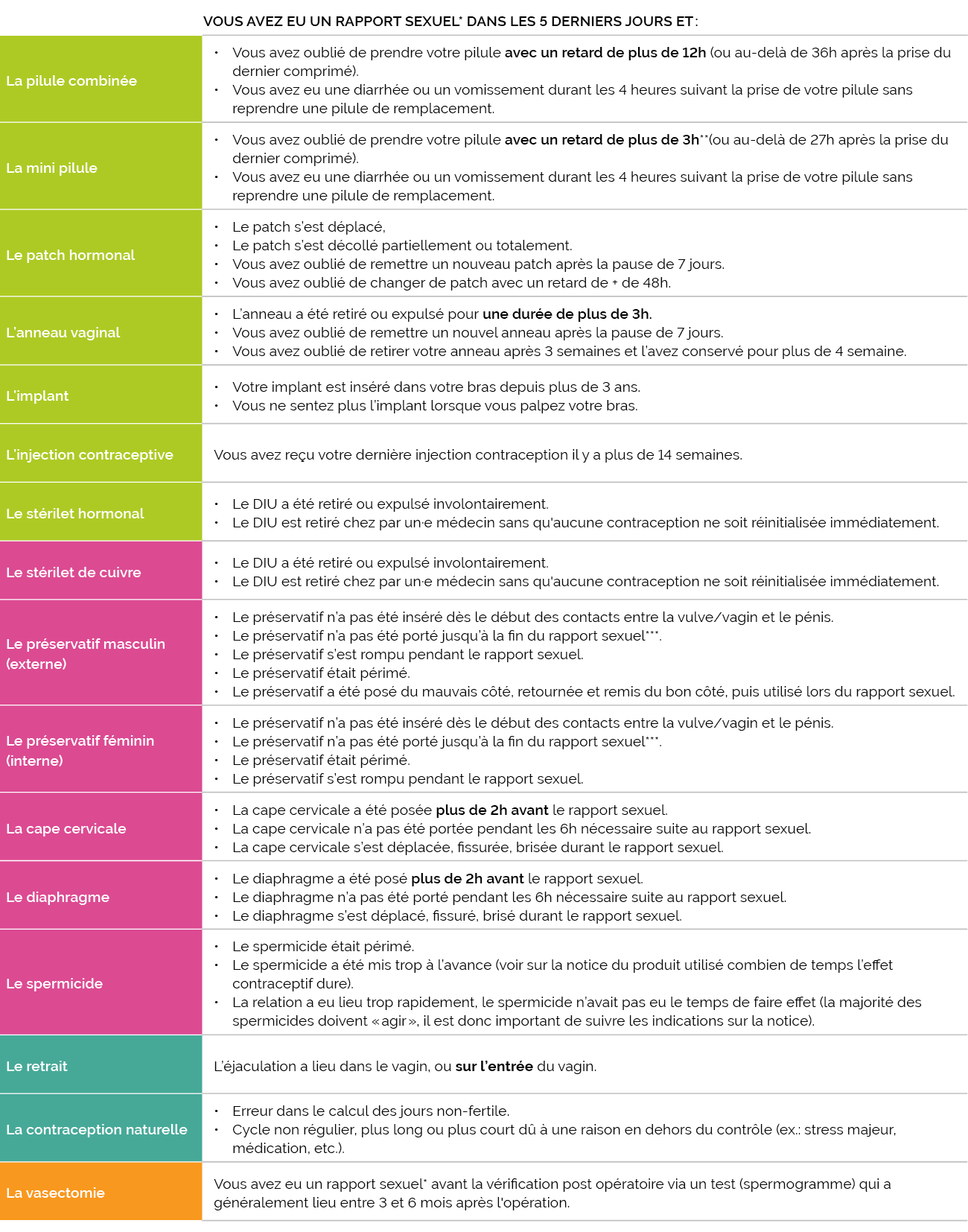 *Sexual intercourses without complementary contraception (e.g., no condom)
**attention, some mini pill made of desogestrel allow a delay up to 12 hours (or up to 36 hours after the intake of the last pill). Check the notice or ask your doctor/pharmacist.
***if your partner took of the condom without your consent and kept the penetration going without condom, the Penal Code and the jurisprudence in Luxembourg allows to assimilate this act to a rape or even to assault and battery in certain cases.