The Female Condom (Internal)
Also known as internal condom, the female condom also has the advantage of protecting against pregnancy and against sexually transmitted infections (STIs).
* Practical effectiveness: effectiveness measured under conditions of current use (taking into account omissions, failures, etc.)
** Theoretical effectiveness: effectiveness observed under conditions of perfect use (without problems of use and without interaction with other drugs)
Source: effectiveness percentages are taken from WHO (2018)
INTERESTING FIGURES AND DETAILS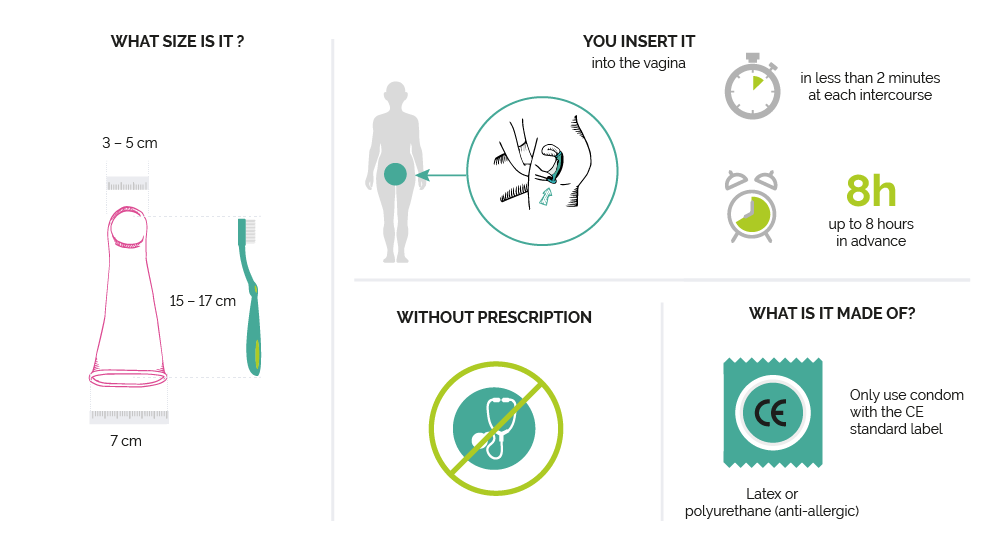 ADVANTAGES
Protect at the same time against STIs and pregnancy
No need to see a physician to get this contraceptive
Adapted to woman who do not want hormonal method or who are still breastfeeding
No need to think about it outside of sexual intercourse

 

Painless and hypoallergenic it exists in different matter: latex and polyurethane.

 
GOOD TO KNOW
It is better to combine it with a spermicide. It is more comfortable to use it with some lubricant. Or a 2 in 1 method (spermicide and lubricant at the same time).

 

It is advised to combined condoms to another contraceptive method and/or spermicide gel. It allows to be more protected against an unwanted pregnancy.

 

A minimum care and concentration are needed. Female condom is not that easy to put on in a hurry.

 

Some users feel less sensitivity during intercourse.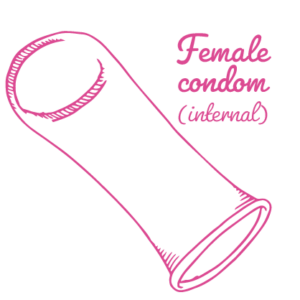 FREQUENTLY ASKED QUESTIONS
Can an internal condom be used for anal sex?
Yes, it is possible to use the internal condom for anal sex, provided that the inner ring is removed. Most internal condoms are made of polyurethane, which is stronger than latex, and can be useful for anal sex. In this case, however, it will not be used to prevent pregnancy, but rather to prevent a sexually transmitted infection.
Can an internal condom be used several times in a row?
The internal condom can be kept in for 8 hours maximum. It is therefore possible to insert it into the vagina or anus before intercourse, and to keep it on for several sessions in a row if they take place within the 8 hours and it is not removed in the meantime.
However, once removed from the vagina or anus, it cannot be reused, nor can it be interchanged from vagina to anus or from anus to vagina. Use a new condom.
Finally, a change of partner should systematically lead to a change of condom, so that these partners do not contaminate each other through contact with the same condom.
How do you know if a condom is in good condition?
Before using a condom, to make sure it is in good condition, there are 3 things to check:
The expiry date
That the packaging is not damaged (presence of air in the package indicate that it is normally not damaged)
The presence of the CE standard on the packaging (product complies with European legislation)
If any of these 3 criteria is not met, use another condom.
I am allergic to latex, is there any condom I can use ?
Although most condoms are made of latex, there are condoms made of polyurethane, a material similar to latex but which is hypoallergenic (does not cause allergies). It is therefore possible to find condoms that are suitable for you.
Is the condom always lubricated or do I need to add lubricant?
All condoms are sold with a small amount of lubricant (in the same package). This is necessary to prevent the latex (or polyurethane) from drying out! However, it is always possible to use additional lubricant. Please note: you should always use water-based lubricant when using a condom. Why? Any other type of lubricant can damage the latex and cause a tear! If you want to use other lubricants, please use a condom made of polyurethane, a material similar to latex which is much resistant.
Where do I put the lubricant? Inside the condom, on top, directly on my body, on my partner's body?
In general, the lubricant is applied :
On the vulva
On the entrance to the vagina and in the vagina
On the entrance to the anus and in the anus
On the penis
In the case of the internal condom, it is usually already much lubricated so that it can easily be inserted into an orifice (vagina or anus). However, you may need more lubricant to feel comfortable with the insertion of the condom or your partner may want to use lubricant on the  penis. There is no need to put lube on the testicles or inside the condom!