The Male Condom (external)
Also known as external condom. It has the advantage of protecting against unwanted pregnancy and sexually transmitted infections (STIs). There are many types of condoms varying in shapes, sizes, textures, and flavors. Do not hesitate to test different kinds to find the most adequate condom for you.
* Practical effectiveness: effectiveness measured under conditions of current use (taking into account omissions, failures, etc.)
** Theoretical effectiveness: effectiveness observed under conditions of perfect use (without problems of use and without interaction with other drugs)
Source: effectiveness percentages are taken from WHO (2018)
INTERESTING FIGURES AND DETAILS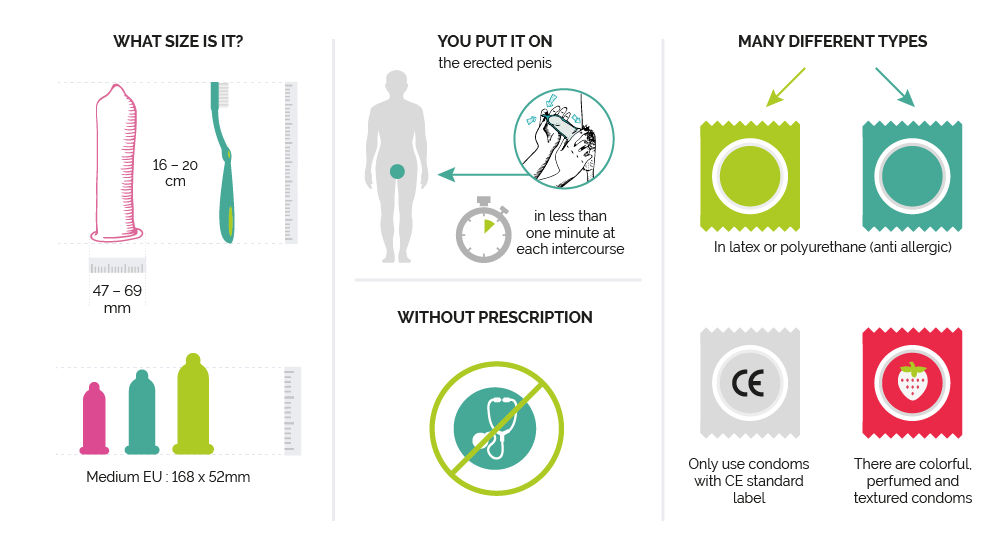 ADVANTAGES
You are protected against STIs
No need to see a physician to obtain a prescription
Adapted to people who do not want hormonal method or who are still breastfeeding
No need to think about it outside of sexual intercourse
Immediate protection against pregnancy
GOOD TO KNOW
It is advised to combine condom use with another method of contraception and/or a spermicide gel. It allows a better protection from unwanted pregnancy and STIs.

 

Minimum care is required. At first, it is not always easy to put on, especially if it is done in a hurry. However, with good practice, you get used to it.

 

Some users feel a loss of sensitivity during the intercourse. In this case, it is possible to buy ultra-thin condoms.

 

It can not be put in advance.

 

Contraception is a matter of both partners. In the case of condoms, you should not be the only one to think about it.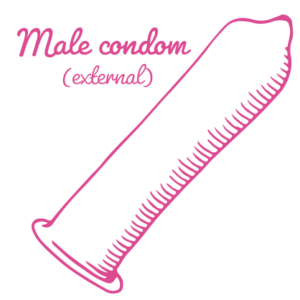 FREQUENTLY ASKED QUESTIONS
Are some people unable to use a condom because of the size of their penis?
A condom is expandable. There are condoms of different sizes (with narrower or wider diameters). In all, there are up to 60 sizes of condoms, so anyone can find an appropriate one.
Resistance is one of the criteria that is tested in order to sell condoms within the European Union. To attest this, you can find the CE label on the condom packaging.
Do I have to put my testicles inside the condom?
No, condoms are only put on the penis.
I am allergic to latex, is there any condom I can use ?
Although most condoms are made of latex, there are condoms made of polyurethane, a material similar to latex but which is hypoallergenic (does not cause allergies). It is therefore possible to find condoms that are suitable for you.
Il dit que son pénis est trop grand pour un préservatif. Est-ce possible ?
Un préservatif est extensible. Cependant, il existe des préservatifs de différentes tailles (avec des diamètres plus étroits ou plus larges).
Is the condom always lubricated or do I need to add lubricant?
Every condom is sold with a small amount of lubricant (in the same package). This is necessary to prevent the latex from drying out! However, it is always possible to use extra lubricant. Please note: you should always use water-based lubricant when using a condom. Why? Any other type of lubricant can damage the latex and cause a tear! If you want to use other lubricants, please use a condom made of polyurethane, a material similar to latex which is more resistant.
Where do I put the lubricant? Inside the condom, on top, directly on my body, on my partner's body?
In general, the lubricant is applied :
-On the vulva
-On the entrance to the vagina and in the vagina
-On the entrance to the anus and in the anus
-On the penis
In the case of the external condom, once you put it on your erect penis, you can apply the lubricant to your entire penis (from the glans to the base). There is no need to put lubricant on the testicles or inside the condom!
Can you perform oral sex with a condom?
Of course, it is even safer because sexually transmitted infections (STIs) can also be transmitted by mouth. Fellatio does not present any danger of pregnancy. So the condom in this case only protects you from STIs.
How do you know if a condom is in good condition?
Before using a condom, to make sure it is in good condition, there are 3 things to check:
The expiry date
That the packaging is not damaged (presence of air in the package indicate that it is normally not damaged)
The presence of the CE standard on the packaging (product complies with European legislation)
If any of these 3 criteria is not met, use another condom.
Can the same condom be used twice?
No. Once the condom is removed it cannot be used again. Similarly, if you put the condom on  backwards (on the wrong side), throw it away and use a new one. It is important to change the condom between  two sexual encounters, when you change of orifice (anal, vaginal or oral sex), or when you change sexual partners.
Can the same condom be used for anal and vaginal penetration?
No. A condom is single-use per partner, orifice and intercourse/penetration. Penetrating different orifices can increase the chances of getting a bacterial infection in the vagina (e.g. anal and then vaginal penetration), and of transmitting an STI (e.g. fellatio and then vaginal and/or anal penetration – herpes virus or HPV). Between each change of orifice, a new condom should therefore be used.
Can a scented condom be used for penetration?
Some scented condoms can be used for penetration. When it is the case, it is indicated in the instructions for use. If it is not indicated, the condom should not be used for penetration. This is because scented condoms contain substances that can alter the pH balance of the vagina and cause bacterial infections or fungal infections3.
The condom broke during my last sexual encounter, what should I do?
If you do not wish to become pregnant, it is advisable to take an emergency contraception as soon as possible, within 5 days (120 hours) of intercourse. Emergency contraception is available in pharmacies without a prescription, or from Family Planning. Emergency contraception can be in the form of a pill or a copper coil. Be careful, the longer you wait before taking this contraception, the less likely it is to be effective.
If you are taking hormonal contraception as a supplement, and it has been taken properly, there is no risk of pregnancy.
However, it is advisable to get tested for STIs for yourself and your partner. Contact your health professional to find out what to do.