The Spermicide
This contraceptive neutralizes (alters) spermatozoa. It is strongly advised to use it in combination with another contraceptive method.
* Practical effectiveness: when measured under conditions of current use (taking into account omissions, failures, etc.)
** Theoretical effectiveness: when observed under conditions of perfect use (without problems of use and without interaction with other medicine)
Source: effectiveness percentages are taken from WHO (2018)  
INTERESTING FIGURES AND DETAILS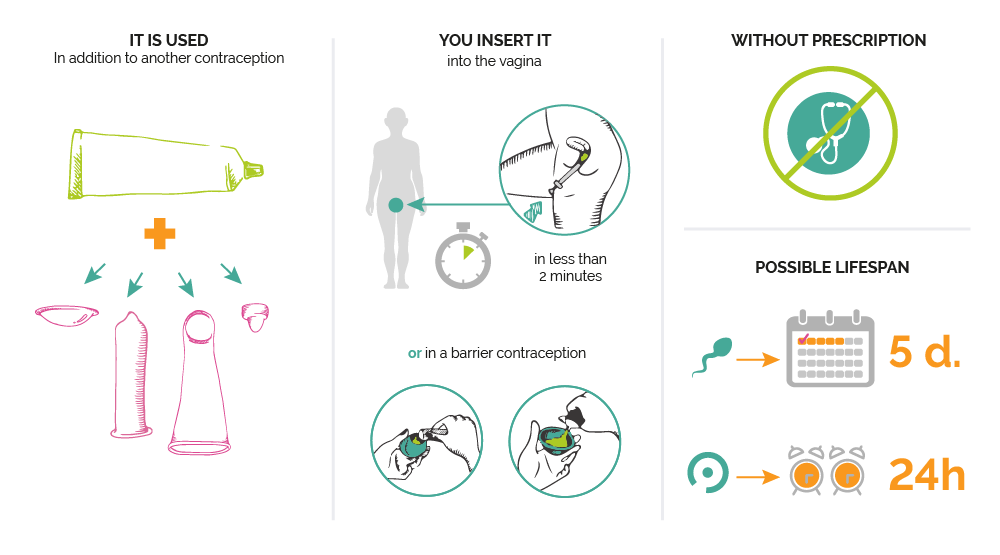 ADVANTAGES
Available without a prescription, so no need to go to the physician.
Suitable for women who do not want a hormonal method or who are still breastfeeding.
GOOD TO KNOW
It is not the most reliable method of contraception. It is strongly recommended to be used in combination with another method.
Spermicide does not protect against sexually transmitted infections. Remember to use condoms.

 

Requires a minimum of skill and attention. Not easy to apply spermicide in a hurry. Remember that it takes a couple of minutes before the spermicide is effective.

 

It can cause irritation if used frequently (i.e., several times a day).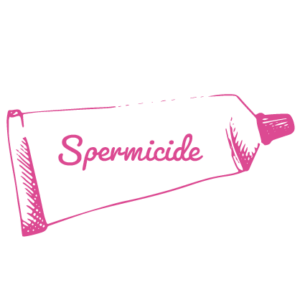 QUESTIONS Frequentes
Does the spermicide have any side effects?
Spermicide may cause irritation to the vagina or penis. If you feel any discomfort with the spermicide you are using, you should not hesitate to change brands/products. If the vagina is in contact with spermicide several times a day, this may also increase the risks of contracting an STI due to the irritation often caused by spermicide used several times in one day.
Is spermicide toxic?
A spermicide is obviously not toxic to the vaginal, uterine or oral membrane. However, it is not edible because it contains silicone or glycerine. Therefore, avoid contact with spermicide during oral sex.
Remember that spermicide is not effective in protecting against any sexually transmitted infections (STIs). Only condoms are effective against STIs.
Can spermicide also act as a lubricant?
Some spermicides contain a lubricant. You can also combine a spermicide with an oil-free lubricant.
My spermicide has expired. What to do?
Throw it away, don't use it.
Is it effective?
Spermicide is recognised as the least effective method of contraception according to the WHO (World Health Organisation). Its effectiveness varies between 79 and 84%.  
Can spermicide be used with lubricant?
If spermicide is used with the cervical cap or diaphragm, you can use a water-based or silicone-based lubricant. Any other type of lubricant may damage the cap or diaphragm.