The Minipill
The Minipill, also called the progestin-only pill (POP) contains only progestin.
* Practical effectiveness: when measured under conditions of current use (taking into account omissions, failures, etc.)
** Theoretical effectiveness: when observed under conditions of perfect use (without problems of use and without interaction with other medicine)
Source: effectiveness percentages are taken from WHO (2018)  
INTERESTING FIGURES AND DETAILS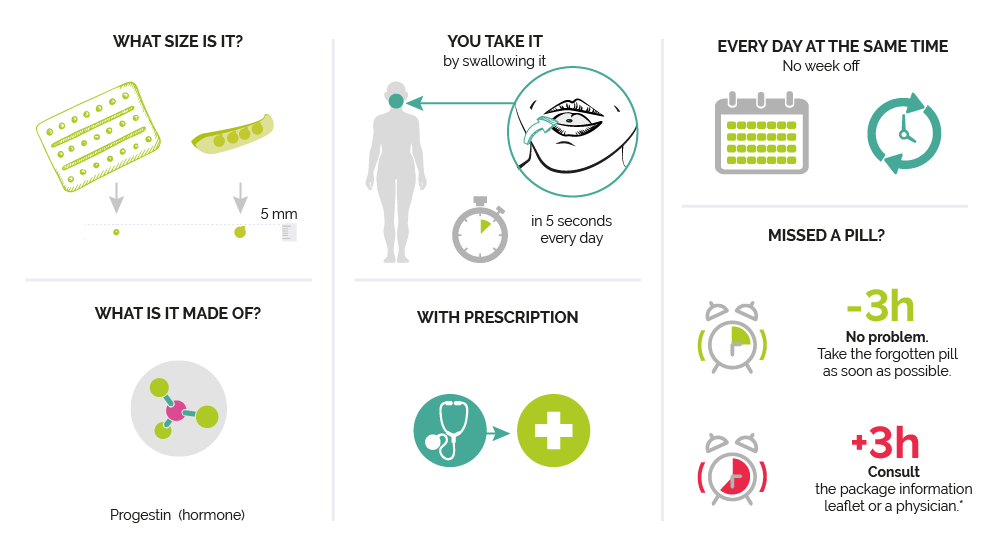 *Some type of Minipill may be taken up to 12 hour later. For more information, consult the package information leaflet or a physician. 
WHERE TO GET IT?
Starting 1 April 2023, this contraceptive is delivered free of charge on medical prescription in any Luxembourg pharmacy to people affiliated with the National Health Fund, with no age limit.
For more information: click here.
This contraceptive can also be delivered for free at the Family Planning, including to people not covered by National Health Fund.
Progestin-only pills cost on average 18-166€* per year (13cycles).
*(This price is an average indication which may vary).
ADVANTAGES
You do not have to think about it at every sexual intercourse however you need to think about it every day.
Suitable for women who are breastfeeding as well as women suffering from migraines
Many women do not have period after a couple of months.

 
GOOD TO KNOW
The pill does not protect against sexually transmitted infections. Therefore, remember to use condoms.
It is required to go to a physician or gynaecologist to obtain a medical prescription. There are several contraindications to the use of the pill, which is why it is important to discuss your overall health with a physician before starting this type of contraception.
The pill is less reliable if you vomit or have diarrhea within 2 to 4 hours of taking it, or if you are taking certain medications such as antibiotics.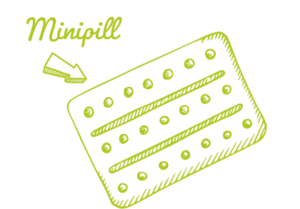 QUESTIONS FREQUENTES
What is the difference between the combined pill and the mini-pill?
Unlike the combined pill, which contains 2 types of hormones (a progestin and an estrogen), the mini pill contains only progestin hormones. The mini pill is taken continuously, whereas the combined pill usually involves a one-week break every month.
Although the mini-pill does not contain two kinds of hormones, this does not make it any less effective when taken properly.
With the combined pill you are no longer protected if you forgot to take it for more than 12 hours. With the mini-pill, protection is generally no longer guaranteed if you forgot to take it for more than 3 hours.
When you first take the pill, how long does it take to work?
When you start taking the pill on the first day of your cycle (1st day of your period), the pill is effective immediately. If you start taking the pill in the middle of an ongoing cycle, it is advisable to use another method of contraception for at least 7 days before the pill becomes effective.
Why are the pill packs for 28 days?
For a long time, menstrual cycles were wrongly modelled on lunar cycles, which are 28 days long. This number has therefore been kept as the average number of days in a menstrual cycle, even though this number varies from person to person (between 21 and 36 on average). If the person's natural cycle is not the same, the fact that the pill creates a 28-day cycle is not dangerous for health.
It should be noted that for the mini-pill, all 28 pills are "active" and must therefore be taken on a continuous daily basis (without any break).
I forgot to take my pill, what should I do?
You are no longer protected if you forgot to take the pill for more than 3 hours. Take the missed pill as soon as possible, even if you take two pills at the same time on the same day. This is not dangerous for your health.
Be aware that there are different mini-pills. Some mini-pills contain hormones that can tolerate forgetting a pill up to 12 hours without affecting the effectiveness of the contraceptive. Please refer to your pill's instruction or and/or ask your pharmacist or physician.
If you did not had sexual intercourse on the day you forgot to take the pill and/or the previous 5 days, there is no risk of pregnancy. Continue the pack and use additional contraception (e.g. internal or external condom) for the next 7 days if you do have sex. It is essential to take the pill every day for 7 days after you forgot to take it.
If you have had sexual intercourse on the day you forgot to take the pill and/or in the previous 5 days, consult a health professional to find out what to do, as there is a risk of pregnancy. In the meantime, continue to take the pill, and in case of sexual intercourse, use a complementary contraception (e.g. internal or external condom).
If you have forgotten 2 or more pills, it is essential to contact your physician or a Family Planning to ask what to do.
J'ai oublié de prendre ma pilule, qu'est-ce que je dois faire ?
En dessous de 12h :
En cas d'oubli de moins de 12h avec la pilule combinée, prenez la pilule oubliée dès que possible, même s'il y en a 2 au même moment et le même jour.
Au-delà de 12h :
Si vous n'avez pas eu de rapport sexuel le jour de l'oubli et/ou les 7 jours précédents, continuez la plaquette, mais utilisez un préservatif pendant les 7 prochains jours. Vous devez prendre 7 pilules de couleur consécutives après un oubli pour être protégée. Si vous arrivez en fin de plaquette après un oubli, il ne faut alors pas prendre les pilules « blanches » /placébo (celles prises pendant les règles), mais commencer directement avec une nouvelle plaquette. Si votre type de pilule n'a pas de pilule placébo, ne faites pas de pause de 7 jours et entamez directement une nouvelle plaquette. 
Si vous avez eu un rapport sexuel le jour de l'oubli et/ou dans les 7 jours précédents, consultez un.e professionnel.le de santé pour connaître la démarche à suivre. D'ici là, continuez à prendre la pilule, et en cas de rapport sexuel, utilisez un préservatif.
A savoir : si vous avez oublié une pilule blanche, cela n'a pas de conséquence. Continuez simplement à prendre les prochains comprimés jusqu'à ce que vous recommenciez une nouvelle plaquette.
How can I remember to take the pill every day?
In order to remember to take the pill, it is advisable to link it to some daily routine, such as brushing your teeth, showering, or any other daily action. You can also set an alarm on your phone at a fixed time or put a visual reminder, such as a note on the bathroom mirror. If you are in a relationship  with a regular partner, this person can also take part in this reminder management.
You can also carry a spare pack of pills with you in case of unforeseen circumstances (if you don't return home), and keep the prescription with you in case you forget to take it while travelling or on holiday.
Also try to choose a time that allows you time to notice if you forgot your pill, so that you can make up for it (within 12 hours for the combined pill, within 3 hours for the mini-pill).
What if I have unpleasant side effects from the pill?
Certain side effects may occur when taking hormonal contraception (heavier or lighter periods, migraines, breasts pain, bleeding between periods, impact on sexual desire, etc.). These side effects are often harmless, but if they become bothersome, your pill may not be suitable. In this case, consult a health professional.
There are so many different pills available, and it is common to have to try many pills before finding the one that suits you well.
If you wish to stop your hormonal contraception, it is recommended that you see a health professional before stopping so that you can plan the transition to another contraception. If, however, you wish to stop your contraception immediately, you can use a temporary contraception (e.g. condom) until you see a health professional.
Is it safe to take the mini-pill if you smoke? 
Yes, it is possible to use the mini-pill, the IUD or the implant (containing only progestative) without any danger. Smoking is a contraindication to the use of hormonal contraceptives which contain estrogen (combined pill, patch, vaginal ring).
Il existe un très grand nombre de pilule différentes, et il est fréquent de devoir en essayer plusieurs avant d'en trouver une qui vous convient parfaitement.
Si vous souhaitez arrêter votre contraception hormonale, il est recommandé de voir un.e professionnel.le de santé avant l'arrêt afin de pouvoir planifier la transition vers une autre contraception. Si toutefois, vous souhaitez arrêter votre contraception immédiatement, vous pouvez utiliser une contraception temporaire (ex. le préservatif) en attendant de voir un.e professionnel.le.
Peut-on prendre la mini pilule sans risques lorsqu'on fume ?
Oui, il est possible d'utiliser la mini pilule, le stérilet ou l'implant (contenant uniquement de la progestérone) sans aucun danger. Le tabagisme est une contre-indication à la prise de contraceptions hormonales œstroprogestatives (pilule combiné, patch, anneau vaginal). 
Can the pill reduce acne?
The pill can have an effect on acne but this may result in an increase or decrease. Contraception can have an effect on acne but it is important to note that it is not a treatment for acne. If you have severe acne, see a specialist health professional (e.g. dermatologist, etc.). Also, if your pill increases your acne, you can talk to your physician about taking a different pill.
Is a gynaecological examination required to receive a prescription for the pill?
No. The only hormonal contraception that requires a gynaecological examination is the hormonal and copper coil (the IUD/IUS). However, a physician's consultation is necessary to  check that you do not have any contraindications to taking the pill. You can go to your physician or  the Family Planning to get a prescription for the pill.
Do I have to see a physician to get a prescription refilled?
In Luxembourg, you normally need a prescription from a general practitioner or gynaecologist to be able to buy the pill in a pharmacy. However, if you are unable to make an appointment with your physician or gynaecologist, he or she may write you a prescription which you simply collect at a cost of approximately €15, which is reimbursable by the CNS.
If you are unable to obtain a prescription, you can go to your usual pharmacy and, depending on the pharmacist's decision, it is sometimes possible to provide your contraception without a prescription if bought regularly at the same pharmacy. However, you will  have to pay 100% of the price of the contraception. You can also go to the Family Planning to get  your contraception at a reduced price, or even free of charge depending on the situation.
I am going on a trip for several months. Can I get several packs of pills, patches or rings?
Yes, it is possible to buy up to 6 months of contraception if you are entitled to reimbursement from the CNS (currently: women under 30 years of age, at 80%). Please note that some pills are also available in 13-month packs. If you have any questions about this, please contact your physician.
If you are no longer covered by the CNS because of your age, it is possible to obtain up to 1 year's contraception refill.
Are there any medicines that are contraindicated when taking the pill?
Some medicines can reduce the effectiveness of the pill. This is the case with anti-tuberculosis drugs, epilepsy treatment, certain plants (millepertuis) and certain antibiotics. If you have diarrhoea or vomiting within 4 hours of taking the pill, you may have expelled the hormones and the effectiveness of your pill may be impaired. You should therefore take another pill. For more information on this subject, do not hesitate to speak to your physician or pharmacist, or to refer to your pill's instructions.
If I get pregnant while taking the pill, is it dangerous for my health or my pregnancy?
No. If you decide to continue the pregnancy, you can simply stop taking the pill as it will no longer be needed. Taking the pill at the beginning of your pregnancy will not affect the embryo or the fetus.