Vasectomy
Vas deferens ligation/Male sterilization
* Source: effectiveness percentages are taken from WHO (2018)
INTERESTING FIGURES AND DETAILS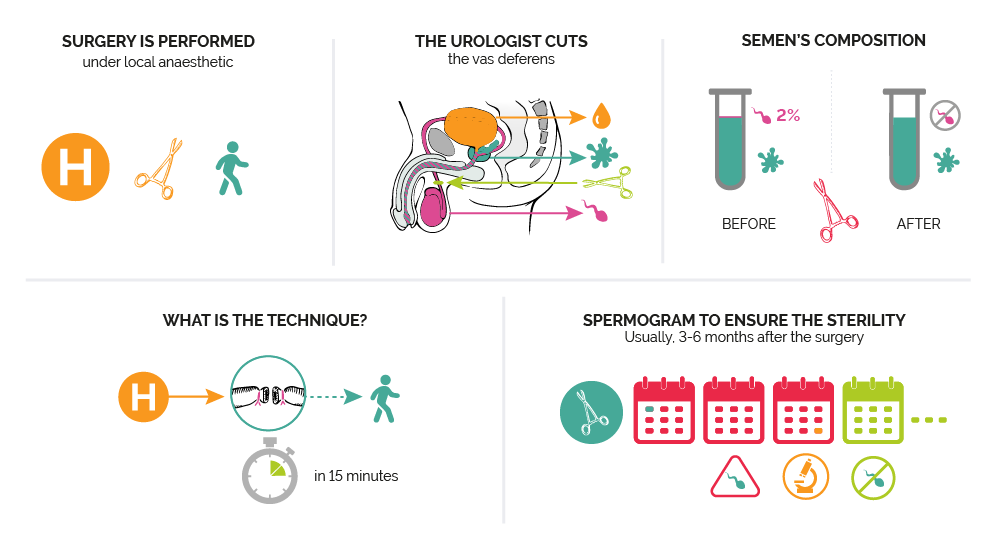 WHERE TO HAVE IT CARRIED OUT?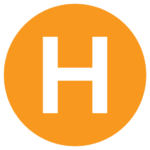 Vasectomy is performed by a urologist, in a hospital setting. The surgery lasts about 15 minutes and is usually performed under local anesthetic.
After the surgery, one or more spermogram(s) are carried out to ensure that there are indeed no more sperm in the semen.
Starting 1 April 2023, this contraceptive is free of charge for people affiliated with the National Health Fund.
For more information: click here.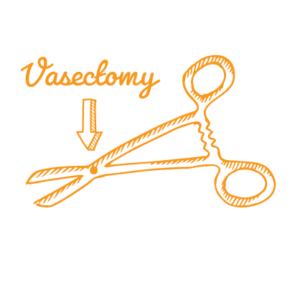 FREQUENTLY ASKED QUESTIONS
Does vasectomy have an impact on sexual desire?
No. After a vasectomy, nothing changes in terms of desire, erection or ejaculation. Desire is regulated by the level of testosterone, secreted by the testicles. This level is not affected by vasectomy, which only involves the ligation of the vas deferens.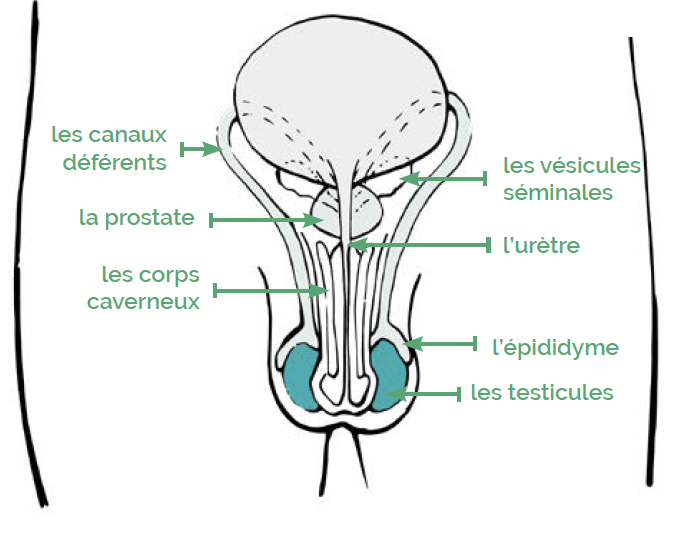 Does it hurt?
No. The operation is performed under local anaesthetic. The operation is quick and painless and lasts only a few minutes (about 10 minutes). However, it  is possible that a small haematoma (a bruise) appears.
Is it still possible to ejaculate after a vasectomy?
Yes, the difference is that there will be no sperm in the semen. Sperm only make up 1-3% of the ejaculated fluid. It will therefore still be possible to have an erection and ejaculate and the absence  of sperm is not visible with the naked eye: it simply looks the same. The amount of semen does not vary enough to be  noticed.
How long does the recovery take?
It is advisable to rest for 24 hours after the operation. It is then recommended to avoid sport or sexual relations for about a week. Please note: the vasectomy is not effective from the start, you will have to wait at least 3 months to ensure that there are no more sperm in the semen. Use a n additional contraception method in the meantime (e.g. internal or external condom).
Is the vasectomy reversible?
Usually not. Vasectomy is also called "a permanent contraception", so it is not intended to be reversible. However, it is possible to preserve your sperm before the operation, at your expense. Reversing vasectomy operation, also called "Vasovasostomy", is possible but expensive and do not guarantee a return to fertility. The success of this operation also varies according to other factors, such as age, time since the operation was done, type of vasectomy, etc. Vasectomy must therefore be considered irreversible.